Jesus said, "Let the little children come to me..."
Children are an essential part of the ministry at First Baptist. From Wednesday Night Awana, VBS in the Summer, Children's Camp, and weekly Kid's Worship there are plenty of opportunities for your kids to learn about God in a fun and exciting way.

Our goal as a church is to come alongside you the parent to help, equip and you as you teach your children to know and love God. We highly value the safety of all children. We have a secure check in system for all children's events and all children's ministry leaders and workers have completed a background check and child safety training.




Times of Children's Events / Services:
9:30am Sunday School

Classes are available for all ages. In Sunday school your child will find a safe and fun environment where they learn about God alongside friends their own age. In class, they will sing songs, do crafts and have a weekly Bible lesson.



10:30 Kid's Worship – "Praise Kids"

All Kids Kindergarten through the 3rd grade are invited to join us every Sunday morning for a fun time of Kid's Worship, where they will sing worship songs, and hear a Bible message from one of our pastors or ministry leaders. Parent's are always welcome in Kid's Worship and children of any age are always welcome to join us in the Worship Center for the main worship service.
Awana Wednesday's at 6:30pm
Awana is an exciting Bible based program that meets every Wednesday Night at 6:30pm. We have over 100 children enrolled in our Awana program and would love to have your kids join us this week!
Sign up for Awana here!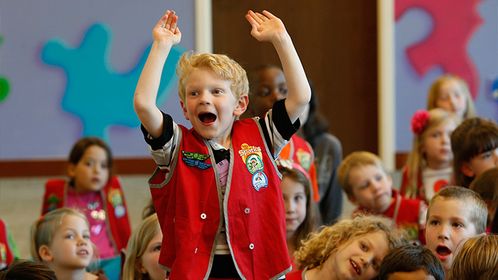 Check-In / Security
In order to provide a safe environment for your children, we follow a strict check in process.
At the computer check in stations, parents are issued a claim ticket with a randomly generated security code.
Each child receives a name tag with the same code. Name tags should be displayed in a prominent place on the child's clothing.
We ask that parents check in their children at the door and not enter the classroom.
You will need your claim ticket to pick up your child from the room.
In the event that a parent must be contacted during the service, they will receive a text notification instructing them to come to the FBC Kids area.
Security members are responsible for monitoring the FBC Kids area.
All of our volunteers receive a criminal background check.
Wellness
In order to promote a healthy environment in FBC Kids we ask that parents keep their child at home when any of the following are observed in their child:
Any degree of fever in the last 24 hours
Vomiting
Diarrhea
Unexplained or contagious skin rash
Hand, Foot, & Mouth Disease
Chronic cough
Chest congestion / Raspy Breathing
Runny nose (yellow/green discharge)
Pink Eye
Parasites (nits, lice, mites, ring worm, etc.)
FBC Kids reserves the right to turn any children away if they display any of the above symptoms of sickness. If a child becomes ill, or displays any of the above symptoms while in our care, parents will immediately be contacted.
If you have any questions please reach out to our Children's Director
Cindy@fbcho.com